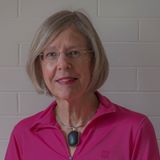 Pat grew up in Vancouver and earned her BSc at the University of British Columbia. After completing her Masters of Library Science degree from Washington University she moved to Ottawa to begin her career, later moving to Toronto where she has lived for over 40 years.
In the early 1990's she began taking a serious interest in Photography and taught herself underwater photography after learning to scuba dive. She quickly developed a parallel passion for land based photography which has now become a major part of her life.
She belongs to two photography clubs (The Toronto Camera Club and The Toronto Digital Photography Club) and competes in competitions at the masters level. Pat has won many awards over the years and has judged photography competitions throughout the GTA and Ontario for over 15 years as an accredited judge. She also gives photography presentations for camera clubs, seniors programs, special interest groups and travel groups.
She has a passion for making AV shows and has produced many with material gathered during her travels to India, Ecuador, Japan, Cuba, the Galapagos Islands, France, Switzerland, Italy, Tanzania, Morocco, and to favourite North American locations such as Ontario's lake country, Newfoundland, western USA and B.C.
While Pat's interest in photography began with underwater and travel subjects, it has expanded over more than 25 years to include nature, landscapes, people, street, close-up, studio, and dance. She loves observing the lives of the subjects she photographs, whether animal or human, in order to tell their story. She also likes to create abstracts from reality, and has forged her own route into photographic impressionism.